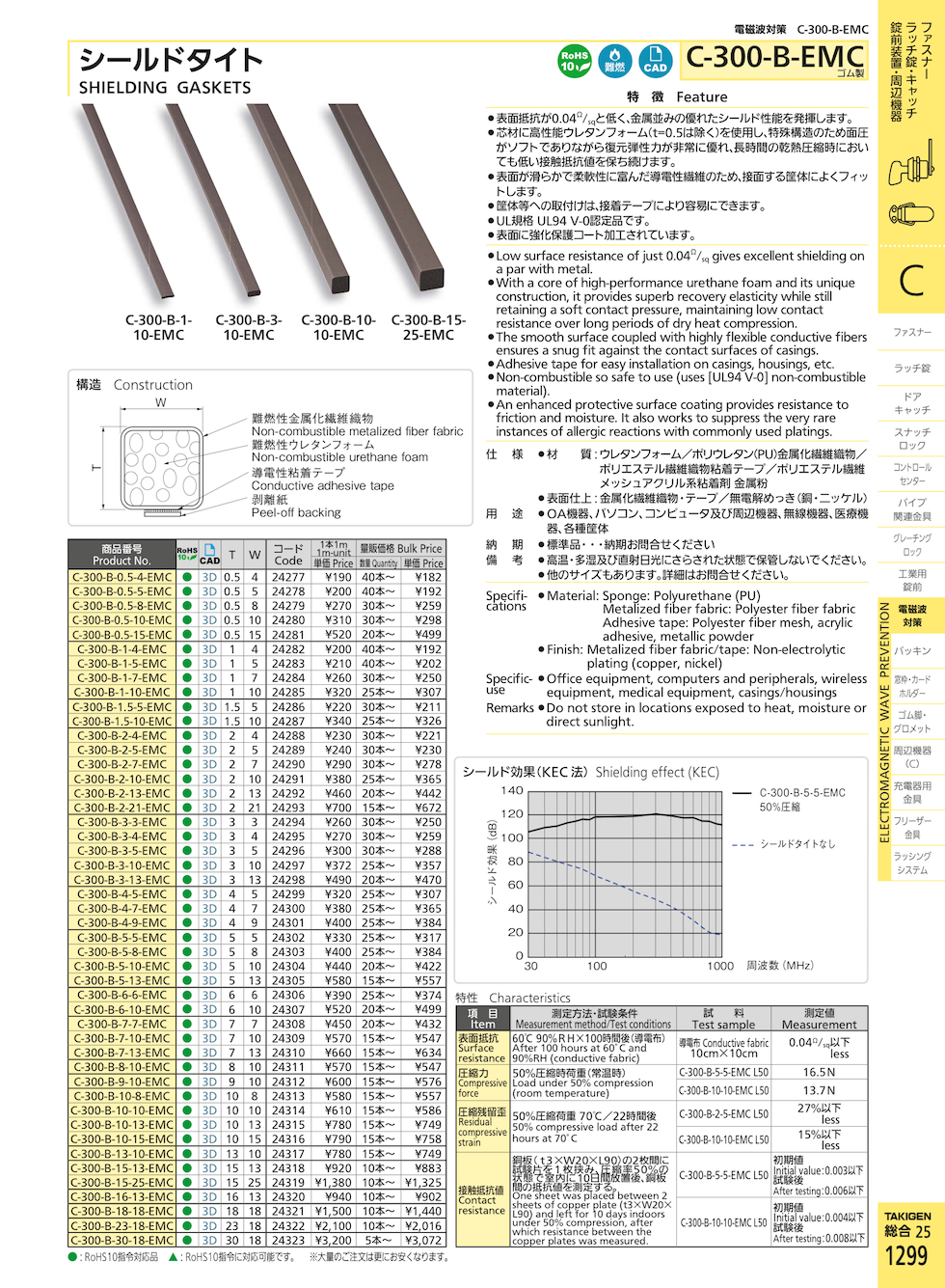 SHIELDING GASKETS Spec Sheet

| Product No. | RoHS | Remarks | Code | Ask Price | 2D | 3D |
| --- | --- | --- | --- | --- | --- | --- |
| C-300-B-0.5-4-EMC | | | 24277 | | | |
| C-300-B-0.5-5-EMC | | | 24278 | | | |
| C-300-B-0.5-8-EMC | | | 24279 | | | |
| C-300-B-0.5-10-EMC | | | 24280 | | | |
| C-300-B-0.5-15-EMC | | | 24281 | | | |
| C-300-B-1-4-EMC | | | 24282 | | | |
| C-300-B-1-5-EMC | | | 24283 | | | |
| C-300-B-1-7-EMC | | | 24284 | | | |
| C-300-B-1-10-EMC | | | 24285 | | | |
| C-300-B-1.5-5-EMC | | | 24286 | | | |
| C-300-B-1.5-10-EMC | | | 24287 | | | |
| C-300-B-2-4-EMC | | | 24288 | | | |
| C-300-B-2-5-EMC | | | 24289 | | | |
| C-300-B-2-7-EMC | | | 24290 | | | |
| C-300-B-2-10-EMC | | | 24291 | | | |
| C-300-B-2-13-EMC | | | 24292 | | | |
| C-300-B-2-21-EMC | | | 24293 | | | |
| C-300-B-3-3-EMC | | | 24294 | | | |
| C-300-B-3-4-EMC | | | 24295 | | | |
| C-300-B-3-5-EMC | | | 24296 | | | |
| C-300-B-3-10-EMC | | | 24297 | | | |
| C-300-B-3-13-EMC | | | 24298 | | | |
| C-300-B-4-5-EMC | | | 24299 | | | |
| C-300-B-4-7-EMC | | | 24300 | | | |
| C-300-B-4-9-EMC | | | 24301 | | | |
| C-300-B-5-5-EMC | | | 24302 | | | |
| C-300-B-5-8-EMC | | | 24303 | | | |
| C-300-B-5-10-EMC | | | 24304 | | | |
| C-300-B-5-13-EMC | | | 24305 | | | |
| C-300-B-6-6-EMC | | | 24306 | | | |
| C-300-B-6-10-EMC | | | 24307 | | | |
| C-300-B-7-7-EMC | | | 24308 | | | |
| C-300-B-7-10-EMC | | | 24309 | | | |
| C-300-B-7-13-EMC | | | 24310 | | | |
| C-300-B-8-10-EMC | | | 24311 | | | |
| C-300-B-9-10-EMC | | | 24312 | | | |
| C-300-B-10-8-EMC | | | 24313 | | | |
| C-300-B-10-10-EMC | | | 24314 | | | |
| C-300-B-10-13-EMC | | | 24315 | | | |
| C-300-B-10-15-EMC | | | 24316 | | | |
| C-300-B-13-10-EMC | | | 24317 | | | |
| C-300-B-15-13-EMC | | | 24318 | | | |
| C-300-B-15-25-EMC | | | 24319 | | | |
| C-300-B-16-13-EMC | | | 24320 | | | |
| C-300-B-18-18-EMC | | | 24321 | | | |
| C-300-B-23-18-EMC | | | 24322 | | | |
| C-300-B-30-18-EMC | | | 24323 | | | |
Features
Low surface resistance of just 0.04Ω/sq gives excellent shielding on a par with metal.
With a core of high-performance urethane foam and its unique construction, it provides superb recovery elasticity while still retaining a soft contact pressure, maintaining low contact resistance over long periods of dry heat compression.
The smooth surface coupled with highly flexible conductive fibers ensures a snug fit against the contact surfaces of casings.
Adhesive tape for easy installation on casings, housings, etc.
Non-combustible so safe to use (uses [UL94 V-0] non-combustible material).
An enhanced protective surface coating provides resistance to friction and moisture. It also works to suppress the very rare instances of allergic reactions with commonly used platings.



Specifications
Material: Sponge: Polyurethane (PU)
Metalized fiber fabric: Polyester fiber fabric
Adhesive tape: Polyester fiber mesh, acrylic adhesive, metallic powder
Finish: Metalized fiber fabric/tape: Non-electrolytic plating (copper, nickel)



Specific Use
Office equipment, computers and peripherals, wireless equipment, medical equipment, casings/housings



Remarks
Do not store in locations exposed to heat, moisture or direct sunlight.